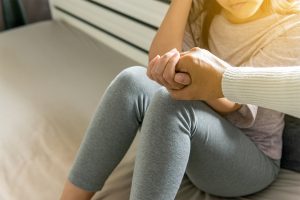 Need Help? If you've lost someone to suicide, you are not alone. L.O.S.S. (Loved Ones Stolen by Suicide) is an informal "open" support group. There is no charge and individuals may join at any time and attend as often as needed.
The trauma of suicide often brings with it a loss of the sense of safety; survivors often become very protective of themselves and their loved ones. At L.O.S.S. we offer the opportunity for sharing, support, and encouragement for anyone who has experienced the unique and profound grief of losing a loved one to suicide.
Meetings are held on the 1st Tuesday of every month from 6:30 pm to 8:30 pm at the Mental Health America office in South Greensburg. For more information, call 724-834-6351, ext 118.
Peer Support Groups
You can learn more about peer and community support groups by calling Mental Health America of Southwestern PA at 724-834-6351. Groups include Depression Support, L.O.S.S., Suicide Survivors Support, and more. Support groups offer opportunities for sharing, caring, and self-help. Information can also be found on Westmoreland County's outpatient providers website or for a comprehensive listing of survivor support groups everywhere, visit the American Foundation for Suicide Prevention site.
Mental Health America of Southwestern PA is located at 409 Coulter Avenue, Greensburg, PA 15601.
A Handbook for Survivors of Suicide
An exceptional resource for suicide survivors is the publication A Handbook for Survivors of Suicide, written by Jeffrey Jackson and published by the American Association of Suicidology.
You may download a free copy at the following link- To the Newly Bereaved Suicide Survivor.
(Adobe Reader required).
Resources
Your community cares. There are a variety of resources available both on the local level and nationally. You can learn more by visiting our Resources page and the page on Services & Programs, or feel free to call Mental Health America at 724-834-6351.