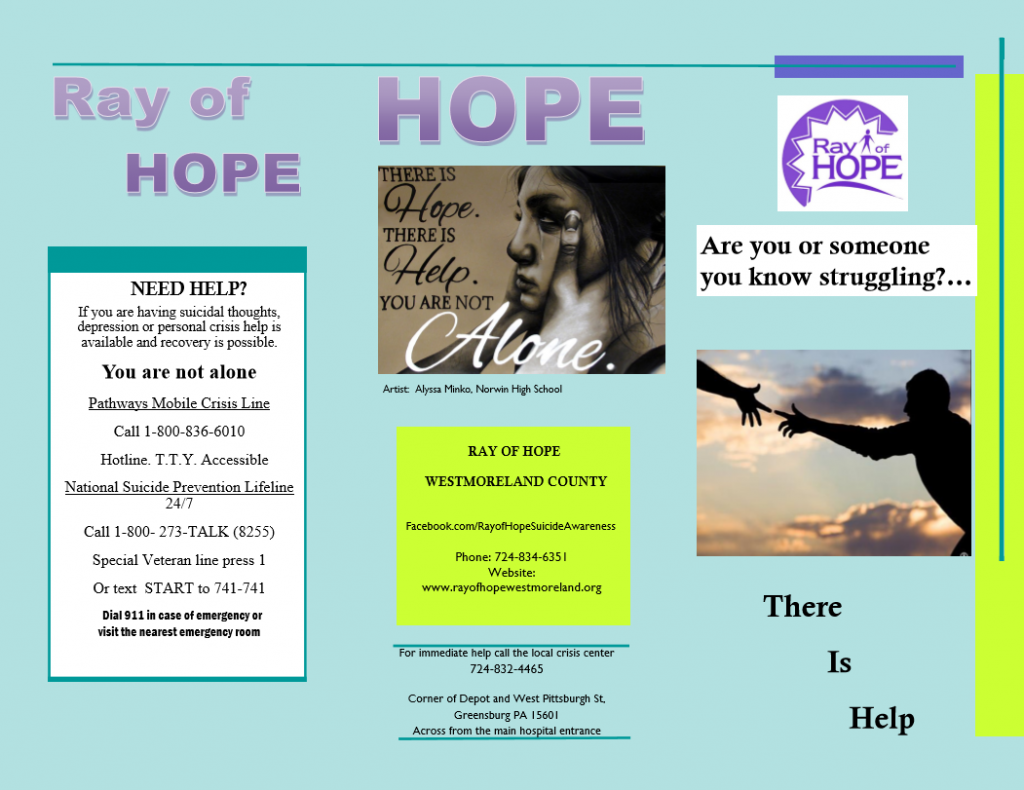 Resource Page
On this page we present a variety of Suicide Prevention and Mental Health resources. Remember, however, if you are in crisis or know someone who is, you need to take action now. Visit our In Crisis page for warning signs and hotline numbers.
Community, State, and National Resources
Local Suicide Prevention Resources
Westmoreland County Behavioral Health and Developmental Services
Mental Health America of Southwestern PA
Commonwealth of PA Resources
Pennsylvania Youth Suicide Prevention Initiative
National Suicide Resources
American Foundation for Suicide Prevention
National Institute of Mental Health
Suicide Prevention Resource Center
American Association of Suicidology
SAMSHA's Mental Health Services locator
PA Department of Drug and Alcohol Programs
National Alliance for the Mentally Ill
Ray of Hope Resources
Ray of Hope offers training and events throughout the year, as well as publishing a quarterly newsletter.
QPR (Question, Persuade, and Refer) Training. Learn more on our Services & Programs page.
Annual Ray of Hope Walk for Suicide Awareness. Learn more on our Annual Walk page.
Ray of Hope Quarterly Newsletter. Learn more on our News & Events page.
If you would like to join the Ray of Hope Task Force, please call Heather McLean  at 814-671-5179 or Laurie Barnett Levine at 724-834-6351, ext 121.