Annual Suicide Awareness & Prevention Walk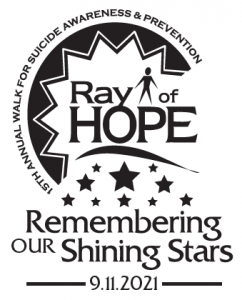 Welcome to the 15th annual Ray of Hope Suicide Awareness and Remembrance Walk. This year, we are not only remembering those who we've lost to suicide, but we are also remembering the 20th anniversary of September 11th and the lives lost on that day.
We are excited to be able to gather with everyone in-person this year — with some safety precautions in place. It has been a long year and a half and being able to greet people and walk together boosts everyone's morale. We encourage you to register for this year's walk early in order to participate in all the day has to offer including the survivors' event (which will take place virtually), reading of the names lost to suicide, stories of hope, raffle baskets, and of course, the walk. Your registration includes a short-sleeved t-shirt.
If you aren't able to attend the walk but are still interested in purchasing either this year's walk shirt of this year's awareness shirt, visit the Ray of Hope GiveSmart site to purchase shirts. T-shirt quantities are limited.
Schedule for the Day
Survivors Event 8:30 a.m. to 9:00 a.m. If you have lost a loved one to suicide, or just wish to listen in, please join us on Zoom for a discussion led by Sam Lonich. All who register for the walk will also have the option to take part in the survivor's event by joining the Zoom meeting at 8:30 a.m. Prior to the event all who register will receive an email link to the survivor event.
The Walk Ceremony will begin at 10:00 and will include reading the names of those lost to suicide. If you wish to have a name or names read, you will be given an opportunity to submit that information the day of the event.
For additional information, contact Rachel Cunningham, Ray of Hope Coordinator, at rcunningham@mhaswpa.org.